Recyclatex and Clarks help bring education to children around the world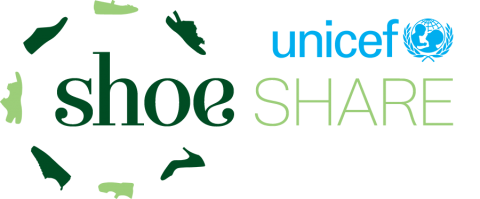 Clarks, the leading children's shoe retailer, is again working with Recyclatex to support the re-launch of their partnership with Unicef to help improve access to education for children across the world.
The 'ShoeShare' initiative encourages Clarks customers throughout the UK to gather their old or unwanted shoes and donate them at collection points in more than 450 Clarks stores nationwide, which are run by Recyclatex. For every tonne of shoes received, a donation is made to Unicef by Clarks which goes towards their education programmes around the world.
Since 2008, Clarks, supported by Recyclatex has raised just over GBP£780,000 for Unicef through this initiative, which was formally known as Shoe Biz, helping to divert almost 200 tonnes from landfill every year*. Shoes going into landfill are thought to take around 50 years to decompose, longer when produced from synthetic materials, so ensuring they stay in the use stage as long as possible is vital.
All the monies raised through the partnership are used to improve facilities in schools, including providing training for teachers, learning materials for children such as exercise books and pencils and creating safe spaces in which they can learn.
Worldwide, millions of children of primary school age are missing out on their right to go to school. Many children have to work to support their families and their parents can't afford the school fees. In some regions, girls are expected to stay at home and marry whilst in others, children who have had to flee their homes due to humanitarian crises such as conflict and natural disasters are living in refugee camps and no longer have a school to go to.
One of the ways donations will help to change children's lives is by providing educational equipment such as 'School in a Box'; a lockable metal box that transforms any space into a child-friendly learning space and contains enough essential learning resources to educate 80 children. Going to school is a vital part of a child's development and solutions like 'School in a Box' are giving those living in crisis situations a degree of normality in their lives.
For more information on the ShoeShare partnership and how to make a donation, please visit www.clarks.co.uk/unicef
* Although diverted from landfill, it is inevitable that due to current recycling capabilities some of the shoes will eventually make it to landfill. WRAP estimated that in 2010 GBP£238m-worth of textiles (including footwear) were sent to landfill but could have been re-used, recycled or sent for energy recovery.